Click here to sign up for our next Referee classes.
Top 10 Reasons to Become a WSSL Referee!
Great exercise (The referee below was having a great time running up and down the field to keep up with the kids and their exciting game on both ends of the pitch)!
Best place to see the game
Wonderful interaction opportunity with the players
Love of the game
Opportunity to clear your head of all the normal day-to-day clutter
Arm got twisted
Child's team didn't have at least two certified referees
Great way to fulfill WSSL volunteer requirement
Camaraderie with other referees
Students get community service credits
(Ok, so it's 11...) Awesome uniforms!
Whatever reasons motivate you to take the field as a Referee, we try to provide support and encouragement to make this a rewarding experience for you and the players!
Division Chief Referees
Referee Leadership Team
How to Get Certified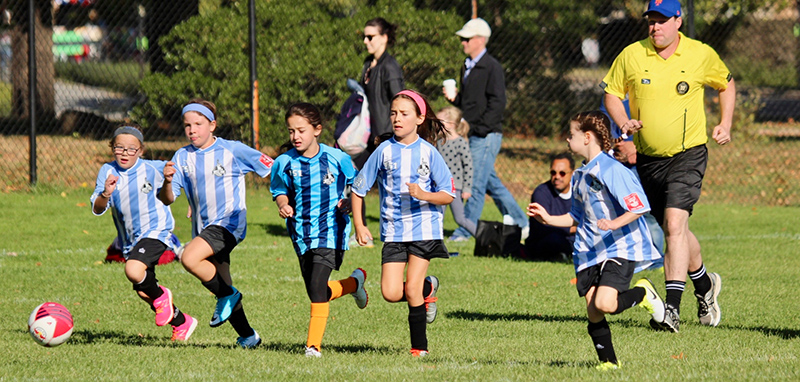 The Chief Referees in each division should be your first point of contact about rules and the practical aspects of refereeing. Please use this website to look for information but if you cannot find what you need, please contact your chief referee if you have questions about:
refereeing in your division,
how to schedule yourself for games,
becoming a referee,
the Laws of the Game,
requesting mentoring,
anything else about referees and their responsibilities.
If you are not sure which Division your child is in, or if you are trying to reach your division's Chief Referee, you can check under DIVISIONS.
We have a manual for the division Chief Referees. To view it, please click here: Chief Referee Manual.
Referee Leadership Team
Stan Ince is the Regional Referee Administrator and makes sure that we have a chief referee for each division and that the chief referees have the resources they need. Stan is supported by two Assistant RRAs, Paul Samarel (U10-U19) and Jay Gross (U6-U9).
Michael Titowsky is the Regional Director of Referee Instruction and is responsible for scheduling and organizing referee training for all divisions.
Doug Geary is the Regional Director of Referee Assessment and is responsible for referee mentoring, observations and assessment for certification upgrades for referees in all divisions.
John Drayton is our Regional Director of Youth Referees. Please contact John for any questions or concerns about the Youth Referee program.